27 July 2016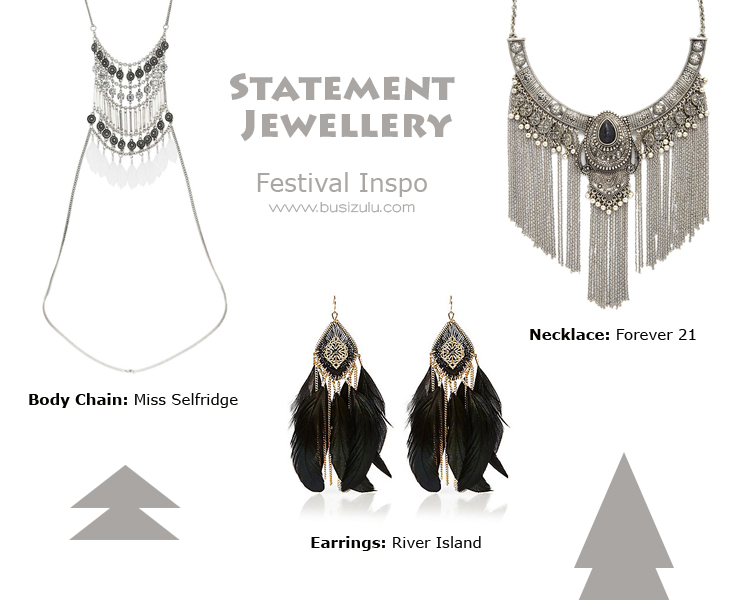 Coachella is one of the biggest music festivals in the world, where a lot of superstars let their hair down and we get to see them in their casual laid-back gear. For me, supermodel Jourdan Dunn is queen of Coachella. Her outfits look very simple with one major statement piece. I love how she chose a black colour for the clothing and used the neckpiece as a focal point.
Her looks can be easily achieved by simply pairing black denims with a ripped t-shirt or string vest and the most dramatic neckpiece, which can be found in Forever21 and River Island. Those two stores are definitely my go to when it comes to statement jewellery.
If rings, earrings and bracelets are not your thing then head jewellery is the way to go. We all know that when it comes to festivals we don't have the luxury of showering whenever we want, so head jewellery is a great option to help disguise a bad hair day after roughing it for a day or two. A little bit of bling goes a long way.
Another funky way to wear your statement jewellery is to layer, I mean…..GO FOR IT!!! Rings, bracelets, nose rings and anything else you can get your hands on. This is definitely for those who aren't afraid to stand out from the crowd. Festivals are the best events to be over the top with style so why not go all out.
Colourful  statement jewellery is another 'must' at festivals. You can mix the jewellery with a lot of different patterns from your clothing and this will create a gorgeous contrast. I know a lot of Irish girls can be self conscious of their fair skin especially when it comes to wearing bright colours, but I'm telling you those colours look just as good on you as they do on dark skin.
I hope you guys enjoyed the post 🙂
Be safe and remember to STAY FABULOUS!!!
Love, B