9 December 2013
So, I was invited to the Contributor's Xmas Party for the Cork Independent newspaper. The invitation was strictly Christmas Jumpers. I knew straight away that I wanted to make my own design as it was my first time actually wearing a Christmas Jumper.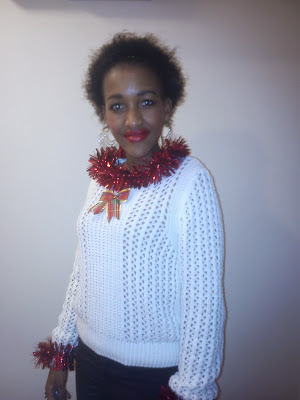 Here's what I used:
I used a jumper that I recently bought from New Look.
The tinsel was €1 from Penneys and the bow came in a pack of three for €1 from Guineys.
To keep the tinsel attached to the jumper, I used the small wire that held the other two bows that I didn't use. There are plenty more options if you don't want to use the same as me. You could use sparkly ribbons and leave the ends hanging to add more festive cheer to your jumper. Simple as that!
Get Creative 🙂
Love, B